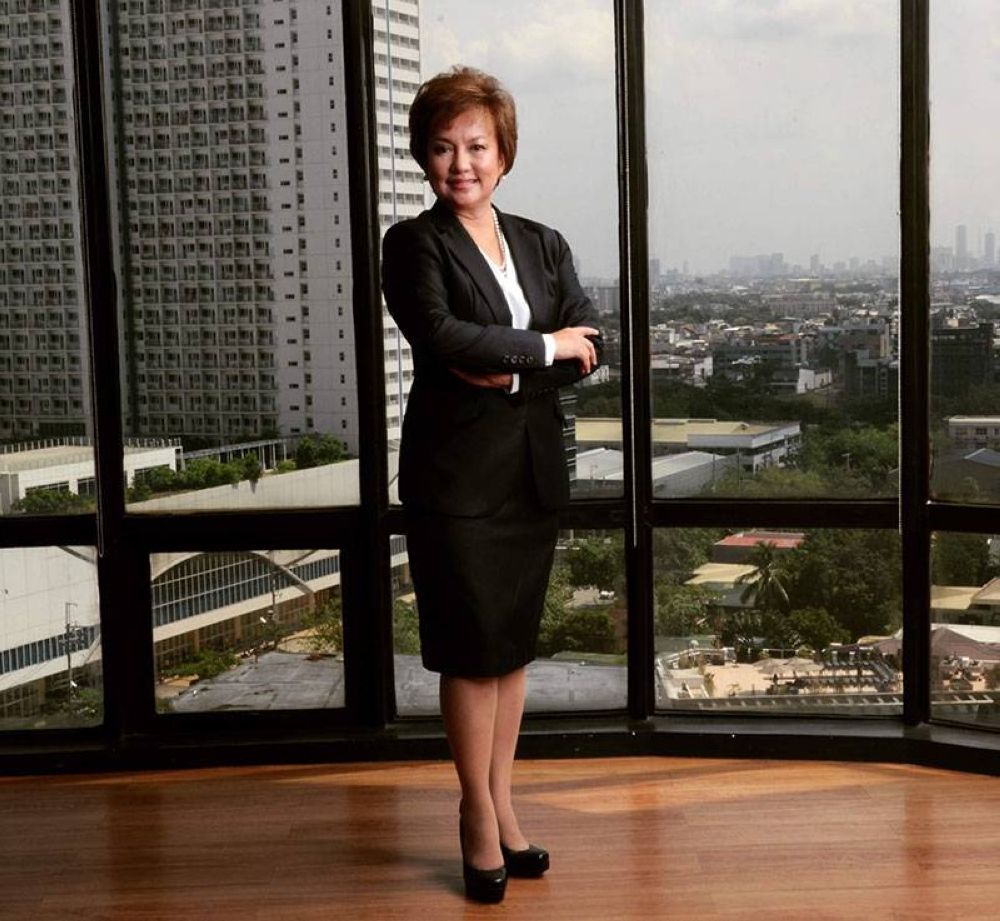 A Specialty Like No Other
By Leah C. Salterio published on March 18, 2022 in the Business Section of The Manila Times
A high aptitude for tax practice became an undeniable advantage for this driven professional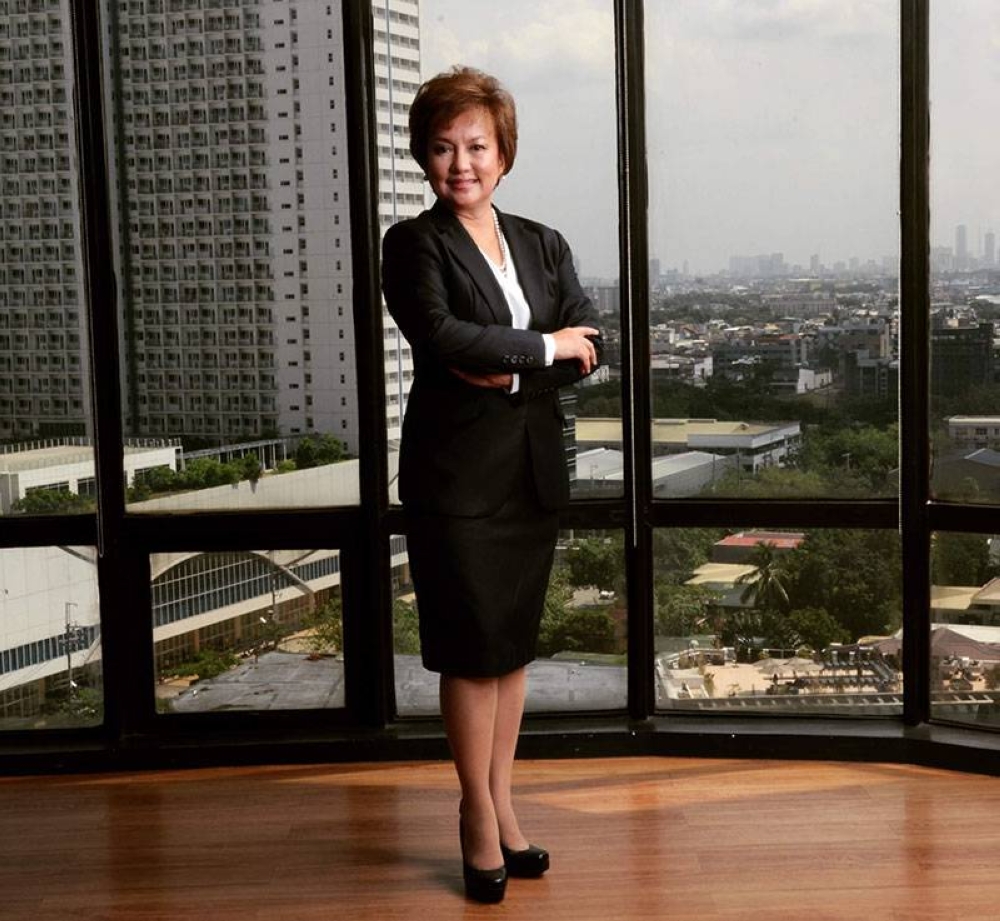 "I get this driven professional fulfilled in looking at the bigger picture of things, and not just a short-term view of the problems. … I get fulfilled in knowing that I make a difference."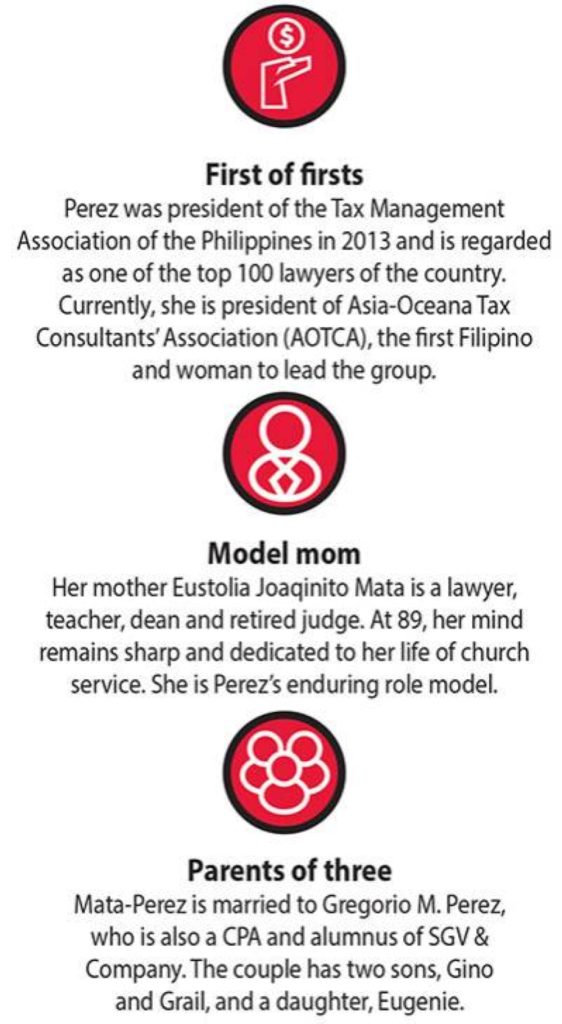 Many professionals pursue a higher degree in their studies. Fewer numbers, however, opt for a second degree. That does not apply to lawyer Euney Mata-Perez, who is also a CPA (Certified Public Accountant). She previously worked as an auditor at SGV (SyCip Gorres Velayo) & Company. "I have a very high aptitude for tax practice, which was like a leech, which followed me wherever I went," Perez tells Boardroom Watch. "It is easy for me to understand tax issues, which, most of the time, have some accounting implications. I used to dislike tax practice, as it is difficult and complicated. Later on, I realized it became my advantage."
Helping people
Specializing in tax law was not simply an overnight achievement for Perez, who developed the skill such that she even became president of the Tax Management Association of the Philippines in 2013. "Tax law evolved through the years because I was doing a lot of tax work in my previous firms and until today," Perez says. "I developed the specialization after years of practice."
Currently, she's the president of Asia-Oceana Tax Consultants' Association (AOTCA), an association of various bodies of tax professionals in the Asia-Pacific Region — the first Filipino and woman to lead the group, and on an extended third term. Perez is also a corporate law specialist, handling contracts, deals and mergers.
"In practicing law, you get to help people, companies and taxpayers with legal and tax issues," says Perez, likewise a special projects lawyer. "And a tax problem is a real one, which could cost the taxpayers millions or even hundreds of millions of pesos if it is not properly handled.
"So, in servicing our clients, we guide them, represent them before the BIR (Bureau of Internal Revenue) and the courts. We help them settle their taxes in a legitimate way." She adds: " With respect to special projects, these projects can create jobs and generate business opportunities as we help to make transactions happen and projects come to fruition. "I get fulfilled in looking at the bigger picture of things, and not just a short-term view of the problems at hand. I get fulfilled in the knowing that I make a difference."
Before the pandemic disrupted ordinary living, Perez frequently traveled because of work as AOTCA president and her ITSG (International Tax Specialist Group) membership. "I think my last trip was to Busan, South Korea to attend the 2019 AOTCA International Tax Conference and the SGATAR conference in Yogyagarta, Indonesia," she recalls. SGATAR is the Study Group on Asia-Pacific Tax Administration and Research. Being the president of AOTCA, Perez was invited as an observer.
In enticing new clients, Perez's MTF legal firm sticks to its mission and vision. "We uphold our values of excellence and integrity," she points out. "We also are pro-active with respect to our clients and anticipate their needs.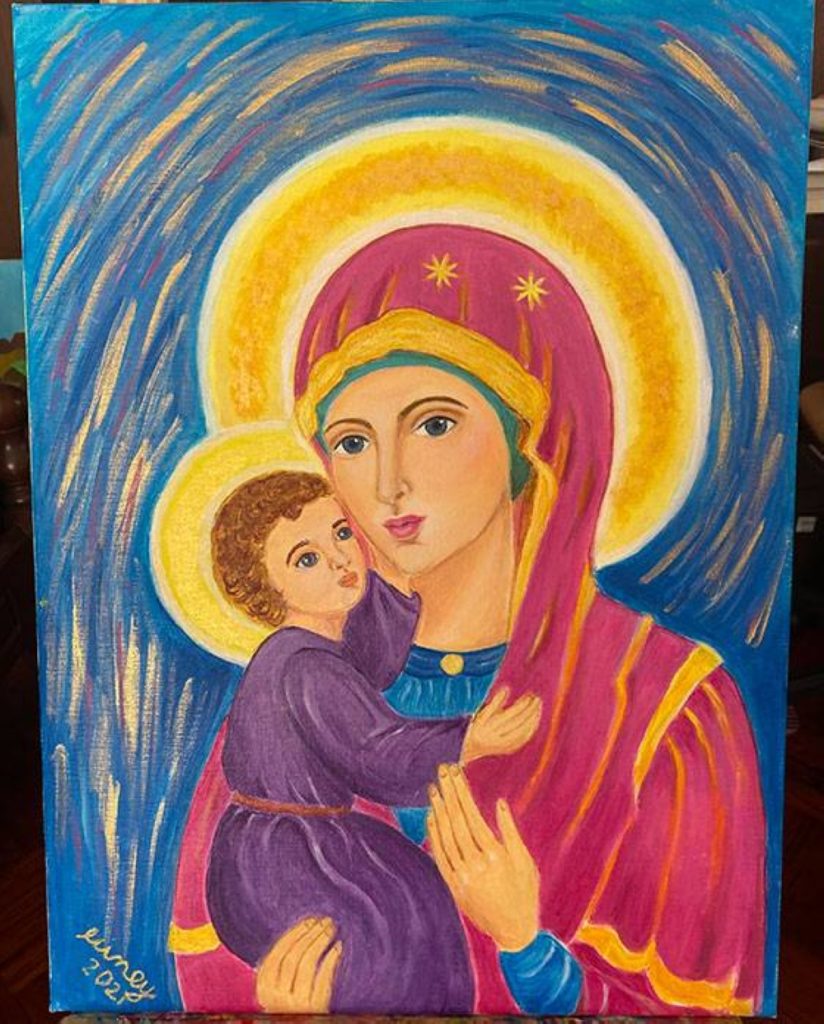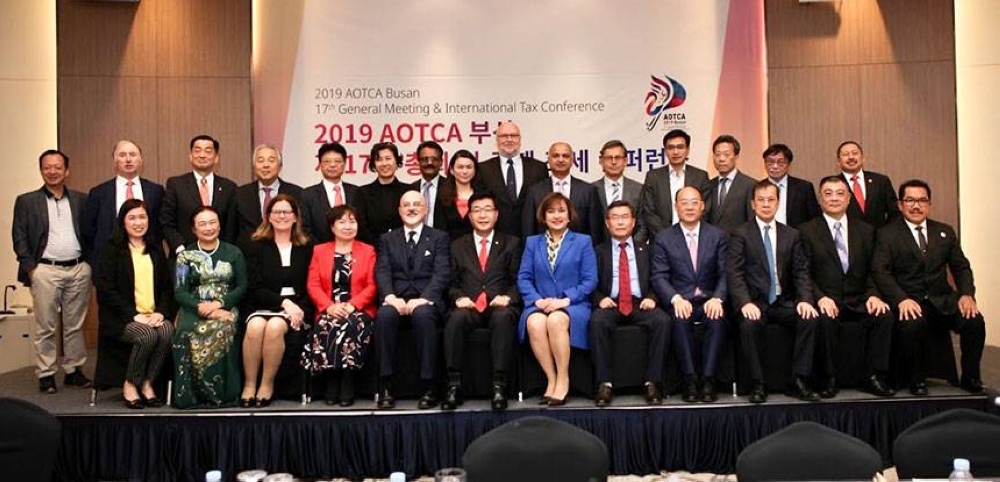 "We do our best to give them the best quality legal service they can get. All of these are the best marketing tools a practicing lawyer could have.
"Of course, we circulate and are active in various organizations. At present, I am the executive vice president of the Financial Executives Institute of the Philippines, Inc.. My partners are also active in other associations, such as the European Chamber of Commerce. We are also a member of an international network, the ITSG, a network of tax specialists with members in over 50 countries."
ITSG members provide high quality, practical and creative international tax advice on a worldwide basis. She says: "Our lawyers also contribute to magazines and journals. We have a weekly column, 'More to Follow' with The Manila Times.
When Perez was in pre-school, she wanted to wear the habit of a nun, apparently inspired by her first teacher at Stella Maris School in Cebu.
However, that ambition was short-lived. "I have always been a leader and taking up law was always in my mind," she says. "My parents, the late Provincial Fiscal of Zamboanga del Norte Rodolfo T. Mata and retired Judge Eustolia Joaquino Mata, were both lawyers. But I also loved the arts and math. I would excel in drawing competitions. I also wanted to become an architect, but the calling to become a lawyer, which was fueled by family influence, was stronger."
Class salutatorian
It was her father's dream for Perez to pursue legal practice and attend the Ateneo Law School. "I took up accounting as a practical course, so that I would have a good career in case I did not become a lawyer," she explains. Perez graduated summa cum laude in college taking up BS Commerce Major in Accounting from the University of San Carlos.
"After taking the CPA Board exams; I got so exhausted from studying and decided to work at SGV Cebu, instead. I did not pursue law immediately."
When her father learned that she finally wanted to go to law school, he renewed his offer, and she enrolled at the Ateneo, graduating salutatorian of their class.
To date, Perez also completed the Strategic Business Economics Program offered by the University of Asia and the Pacific. Juggling her time between work and home, Perez strives to be efficient with her schedule that allows her to keep a balance between the two.
"I have a very good house complement," she says. She is married to Gregorio M. Perez, also a CPA and alumnus of SGV & Company.
"To unwind, I exercise regularly. I run, walk and bike. I also do spin cycling if I don't get to wake up early enough. Also, I pray and practice quiet time. That is my real secret to keeping the balance and being grounded. I do mindfulness and scripture meditations. Right now, I am going through a 34-week guided Daily Life Ignatian Retreat."
Perez loves photography and also paints. "When the pandemic struck, I started painting. I have done a number of paintings of the Virgin Mary like one in pink, which has no political connotations."
"I am a plantita and a pet lover, too. We have four dogs, four cats and koi fish. I also love fashion and world politics. With my family, we eat out, watch movies and, before the pandemic, we traveled together."
Perez is basically a nester. "We just stay home if we are not traveling or are not in the province," she says. "My parents' home is in Dipolog City, where I spent my elementary and high school years. I now return to Dipolog and Cebu at least four or five times a year."
Perez expresses her desire to travel overseas again. "In fact, I already have some scheduled overseas conferences starting this May," she says. "But I am not yet certain if I can or should really go."
Her advocacies include economic reforms, rights of persons with disabilities and autism awareness. The latter two are seriously close to her heart as her eldest son, Gino, has autism. "He is high functioning, though, and is now independent in many ways," Perez says. Her other son, Grail, is graduating from Occupational Therapy in De La Salle Medical and Health Sciences Institute in Dasmariñas, Cavite. Her only daughter Eugenie is in Grade 8, and dabbles in the arts, violin, theater and now, fashion.
"I am proud of my children and being a mother is still my greatest challenge," Perez declares.
Perez looks up to world leaders like Mahatma Gandhi and Nelson Mandela. "But my biggest role model is the Virgin Mary, the mother of our God, who took on her role with such calm and grace," Perez says. "My mother is my role model, too. She is 89, with still a very sharp mind. She is a retired judge, was a law school teacher and dean and a lay servant of the church."
"The greatest lesson I have learned is that we do not own anything or anyone in this life. We just have to live our life the best we can, despite all our challenges and the imperfections surrounding us, and surrender everything to God."
https://www.manilatimes.net/2022/03/18/business/boardroom-watch/a-specialty-like-no-other/1836655