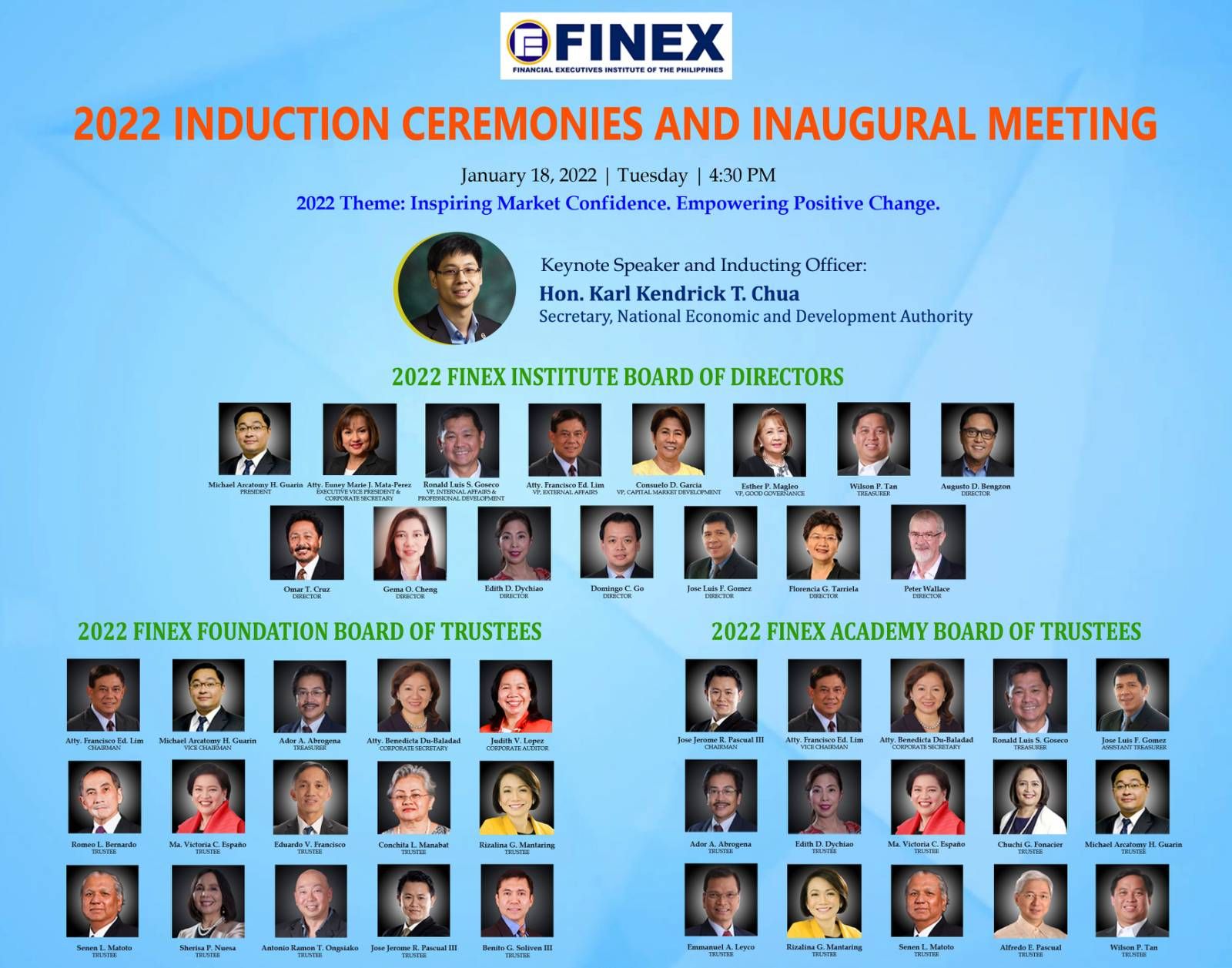 MTF MANAGING PARTNER RE-ELECTED AS FINEX EXECUTIVE VICE-PRESIDENT AND CORPORATE SECRETARY
Atty. Euney Marie J. Mata-Perez, the firm's founder and Managing Partner, was re-elected as the Executive Vice-President (EVP) and Corporate Secretary of the Financial Executives Institute of the Philippines (FINEX) at the 2022 Induction Ceremonies and Inaugural Meeting held on January 18, 2022.
This year's theme is "Inspiring Market Confidence. Empowering Positive Change." Hon. Karl Kendrick T. Chua, Secretary of the National Economic and Development Authority, was the keynote speaker and the inducting officer.
FINEX is an organization founded in 1968, which is composed of more than 700 senior finance practitioners and professionals, comprised mainly of presidents, chief executive officers, chief financial officers, treasurers, and controllers of large corporations and institutions, as well as distinguished public officials, and academicians.
With her induction as FINEX's EVP and Corporate Secretary, Atty. Mata-Perez will continue to share with FINEX her experience as a certified public accountant and a seasoned lawyer with expertise in a wide array of fields such as tax and corporate law, among others.
The other officers of FINEX for 2022 are as follows: Michael Arcatomy H. Guarin, President; Ronald Luis S. Goseco, VP-Internal Affairs and Professional Development; Atty. Francisco Ed. Lim, VP-External Affairs; Consuelo D. Garcia, VP-Capital Market Development; Esther P. Magleo, VP-Good Governance; Wilson P. Tan, Treasurer; and Directors Augusto D. Bengzon Omar T. Cruz, Gema O. Cheng, Edith D. Dychiao, Domingo C. Go, Jose Luis F. Gomez, Florencia G. Tarriela, and Peter Wallace.
Officers of the FINEX Academy and the FINEX Foundation were also inducted on January 18, 2022.